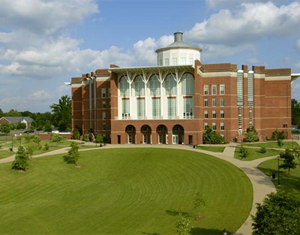 The University of Kentucky's 670 acre campus is located just south of downtown Lexington, Kentucky. Major routes into town are marked with UK logo signs leading to campus. The main entrance to the campus is Administration Drive off of South Limestone. The Visitor Center is located in the Main Building on Administration Drive. If you are driving to campus be certain to check our visitor parking information.
Information about accessibility features of campus buildings, the best routes between buildings, and accessible parking locations is available from the Access Map pages.
Campus is divided roughly into three parts. North campus contains primarily residence halls. Central campus is home to classrooms and offices, the W. T. Young Library, the Lucille Little Fine Arts Library, and the King Library. South campus contains additional residence halls, athletic and recreational facilities, the Chandler Medical Center, and the College of Agriculture.
The campus has designated bicycle lanes, paths, and parking areas. See the Bicycle Regulations for more information.
The University of Kentucky was established in 1865.