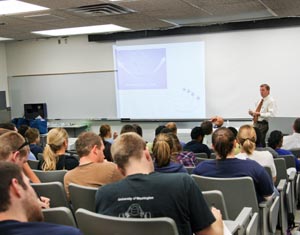 Our educational program for anesthesiology residency training encompasses many different educational modalities as we prepare you to become board-certified in anesthesiology. It includes supervised patient care, formal conferences, various types of examinations, simulation, and independent study on your part. Details of training requirements of the American Board of Anesthesiology (ABA) may be found in the ABA Booklet of Information, which is provided for each resident or on their web site at www.theaba.org.
The ABA requires twelve months of training in fields outside of anesthesiology which is called Clinical Base (CB) training and is traditionally done during the PGY 1 year. In 1998-99, we adopted a different approach. These twelve months are now divided between PGY 1 & PGY 2 years.
Conferences
Didactic podcasts with associated self-assessment questions are available on Canvas on Monday thru Tuesday each week (typically available at least 1 week in advance).  An interactive morning conference is held from 0600 to 0645 on Thursdays and the General Competencies Conference from 0630 to 0730 on Wednesday mornings. Keywords (one-page summaries of topics/questions from previous American Board of Anesthesiology examinations) are prepared by the residents and distributed daily. An intensive Board review course is provided in January and February of each year prior to the In-service examination. No other didactic programs, except the General Competencies Conference on Wednesday mornings, is held during this time. The goal is to help the residents prepare for the ABA examination/In-Training Examination they will take each March.