The majority of outpatient cases at UK are done in the Center for Advanced Surgery.  The Center opened in 2004, has eight operating rooms, and is in the top two floors of the Gill Heart Building, which is attached to the front of the hospital.  We do more than 9000 anesthetics cases per year in the Center. We are also now not only doing peripheral nerve blocks, but also outpatient continuous catheters.
Priorities are different in ambulatory anesthesia.
The patient must recover quickly, without complications such as significant pain or nausea and vomiting.  Most patients having extremity surgery receive a peripheral nerve block as part of their pain management strategy.  Both adults and children are cared for in the CAS, needing many different types of ambulatory surgery.
The months that you spend doing cardiothoracic anesthesia are busy, but it is worth it.  You do the full spectrum of adult cases; including on-pump and off-pump coronary artery surgery, valve replacements and repairs, major aortic surgery, heart and lung transplantation, arrhythmia surgery, and use of many types of circulatory assist devices. All types of thoracic surgery, including robotic and video-assisted thoracoscopic procedures, are performed. Residents are trained in the application of one-lung ventilation, intraoperative fiberoptic bronchoscopy, and are introduced to transesophageal echocardiography (TEE) beginning in the PGY2 year.
Our Chronic Pain program is truly on the cutting edge.  One of the innovative procedures at the University of Kentucky is selective nerve root stimulation.  The residency experience is also inclusive of common procedures such as peripheral nerve stimulation, surgically-implanted spinal cord stimulation, intrathecal pump implantation, radiofrequency ablation, intra-discal annuloplasty, vertebroplasty, and myeloscopy.
We see more than 1000 patients per month in clinic and do over 10,000 pain procedures annually.  Our pain service also has dedicated operating room time for invasive procedures.
Residency

The Division of Critical Care Medicine provides primary consultative critical care in both the Cardiovascular ICU (CVICU) and the Neurosciences ICU (NSICU) at the UK Chandler Medical Center. Anesthesiologists lead a team comprised of fellows, residents, surgeons, nurses, pharmacists, respiratory therapist, dieticians and others to provide care to a wide variety of patients across these specialty units. 
In addition, the Division of Critical Care Medicine provides consultative critical care to postoperative surgical patients admitted to the ICU following abdominal organ transplantation, ENT, plastics, urologic and other types of general and specialized surgeries.
The neuroanesthesia service is one of the most active subspecialty services.  Five days a week, the neurosurgeons have 4 to 5 rooms of elective cases.  Each year, over 1600 neurosurgical procedures, ranging from microdiscectomies to cerebral aneurysm clippings and coilings, are performed at UK.
UK is a major referral center for intracranial tumors and for patients with spinal cord injuries.  In addition, as a Level One Trauma Center, a significant number of patients with head-injuries and increased intracranial pressure will present for surgical procedures.  Our patients range from the youngest neonates to the geriatric population. Their neurologic pathology is often accompanied by other significant organ dysfunction, presenting true anesthetic challenges.  
During obstetric anesthesia rotations in the CA-1 and CA-2 years, residents acquire skills in the anesthetic management of both routine and high-risk obstetric patients. Over 80% of our obstetric patients receive labor analgesia. Therefore, the opportunity for residents to develop and refine skills in epidural and combined spinal-epidural analgesia are plentiful. In addition, epidural, spinal, and general anesthesia is provided for various operative procedures, including cesarean section, tubal ligation, cerclage, and D & C. Residents gain significant experience caring for healthy, routine obstetric patients.
In addition, our obstetric service is a major referral center for high-risk pregnancies.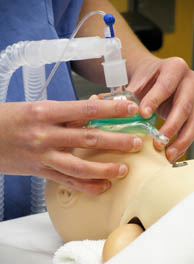 The rotation is designed as a three-month block at the University Hospital and Shriner's Hospital Lexington. There is a directed reading program for this rotation, which is appended to these Goals and Objectives. During these rotations, residents are directly supervised by faculty members of the UK Department of Anesthesiology in the provision of anesthesia and post anesthetic care for newborns, infants, children, and adolescents to age 21 undergoing therapeutic, diagnostic, and surgical procedures.
This care is inclusive of general anesthesia, regional anesthesia, intravenous sedation, as well as appropriate regimes for analgesia in this population.
The Acute Pain Service at the University of Kentucky has a long history of innovation with regard to the advancement of the state-of-the-art in perioperative pain management.  Patient controlled analgesia was first described and utilized by physicians in our department.  We continue these traditions today as we have one of the most active Pain Services in the country.
Our department maintains one of the few physician-directed, nurse-driven, twenty-four hour per day, in-house Pain Services.  Twice weekly lectures and journal review supplement your procedural education experience.  Over one thousand thoracic epidurals are done annually.  Residents surpass the number of regional blocks required by the ABA in the first of their three months on this rotation.